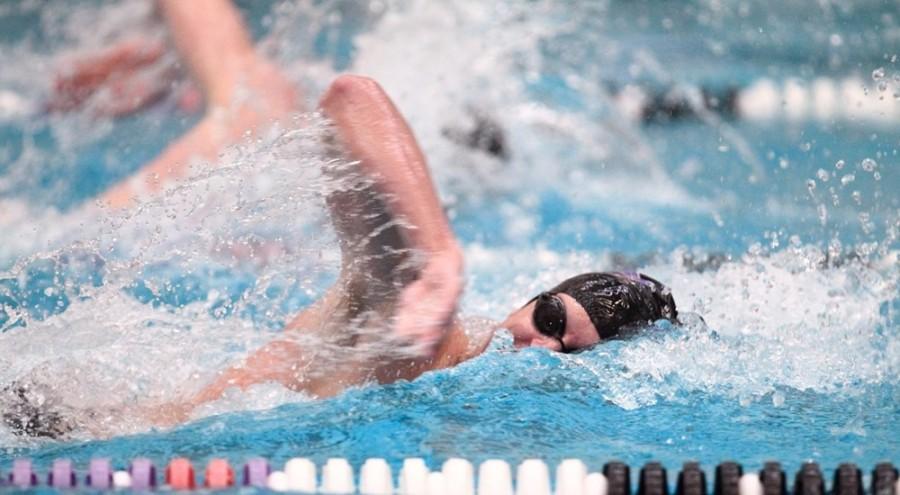 via gonyuathletics.com
With championship season looming, the men's and women's swimming and diving teams both competed in Pennsylvania against West Chester University on Saturday in the final dual meet of the year. The men lost a competitive 178-121 battle, while the women dominated with an emphatic 204-82 win.
Sophomore Chad Moody was primed for another big day and delivered, taking first place in the 100-yard freestyle. He also finished in third place in the 100-yard backstroke. Moody competed alongside sophomores Adam Betts, Tim Kou and Junior Daniel Tay in the 200-yard relay race where the men placed second. Betts is looking forward to the season's home stretch based off this weekend's performance.
"We knew that it was going to be a close meet and many of our swimmers really stepped up and achieved some good times," Betts said. "This is our last dual meet of the season and I'm excited to go into our championship season with the results we posted this weekend."
In the three-meter and one-meter competitions, sophomore diver Dylan Adler landed in third and fourth place, respectively, while freshman diver Max Falb placed in fourth and fifth place. Junior Max Phillips was victorious in the 200-yard freestyle and also finished in second for the 100-yard freestyle.
"It was the second time I had raced in the 100-yard and 200-yard freestyle since I was out with an injury for November," Phillips said. "I was quite happy with my results and I'm glad to see being gone for a month didn't have as big of an impact on my races as I thought it would."
There were also a number of solid performances on the women's side. Freshman Haley Wen was in top form, winning the 500-yard and 1000-yard freestyles.
"The meet was our last meet before championship season," Wen said. "I think based upon both my swims and the swims of my teammates we are in a great position to do some amazing things in the next few weeks."
Freshman Noel Leung finished first in the 100-yard freestyle as well as the 200-yard freestyle. She also placed in second for the 100-yard butterfly.
"I am proud to see our team pushing through every event even [if] some of us have started tapering," Leung said.
Sophomore Isabelle Kitze won the 50-yard freestyle and the 100-yard butterfly. She was also part of the winning 200-yard medley relay and 400-yard medley relay teams.
Junior diver Ashlie Pankonin placed first in the one-meter and three-meter competitions with two NCAA-qualifying scores. Pankonin did not let the reputation of the other team affect her performance in a negative way.
"The West Chester divers are really talented," Pankonin said. "Instead of letting that talent discourage us, we let it inspire us to do the best that we could this weekend."
The Violets will be hosting the NYU Invitational on Friday and Saturday, Feb. 5-6.
A version of this article appeared in the Feb 1. print edition. Email Ashley Arnold at [email protected]