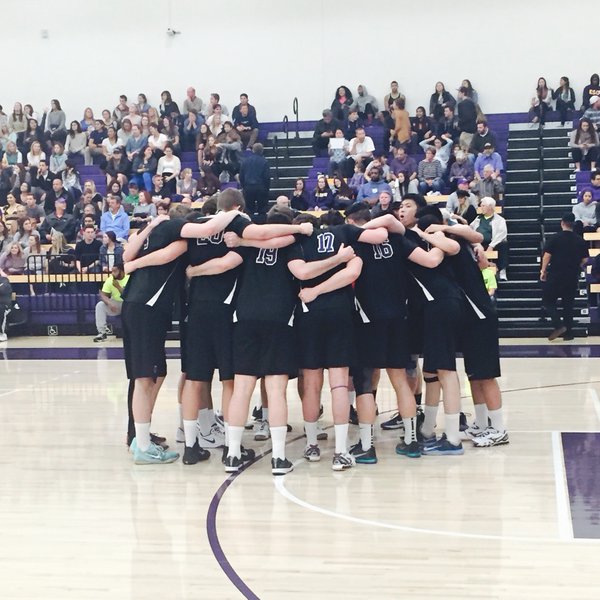 via twitter.com
The men's volleyball team officially kicked off its season with a match against California Lutheran University at the Posada Royal Invitational in Thousand Oaks. The men, ranked ninth in the American Volleyball Coaches Association poll, played well in their first contest on Jan. 22, defeating CLU 3-0. After winning the first two sets relatively easily, the Violets had a fight on their hands in the third set. However, the Violets were able to hang on, winning the set by two points and taking the match. This was led by eight kills apiece from junior outside hitter Chase Klein and senior captain Nick Benson, with five Violets managing at least five. Junior Derrick Chiu was the primary setter for NYU and managed 28 assists.
Senior middle hitter Phil Bueno and junior middle blocker Stephen Tan finished with six kills. Bueno also had team-high tying digs.
The next day, NYU won one out of two games. The Violets defeated Lakeland College in straight sets in the first game of the day. Once again, Klein and Benson led the team. Klein excelled with 13 kills and 22 swings, while Benson went 12-25 in kills. Sophomore middle hitter Chase Corbett finished with nine kills on 11 swings. Chiu, who finished with a team-high 40 assists, sees the potential in the team to have a successful season.
"Our team showed a lot of energy and motivation to win this past weekend," Chiu said. "It's a good start to the season and we demonstrated that we have the potential to make this a winning season."  
The Violets lost their second game of the day against fifth-ranked UC-Santa Cruz 3-2. The Violets won two of the first three sets in the match, but UC-Santa Cruz stormed back in the final two sets to clinch the victory. Chiu tied the match with 13 digs, dishing out a match-best 36 helpers for his first career double-double.
"We beat California Lutheran and Lakeland in three straight sets but unfortunately lost a nail biter to UC-Santa Cruz in the fifth set," Oxnard said.  "Overall, it was a great weekend and it really built the confidence we need to continue into the season."
"The team had a great start to the season with two sweeps and a hard fought loss against the number 5 team in the country," Bueno said. "We were able to stick together through adversity and play ourselves out of difficult situations. We should get stronger with more practice and experience and this should be a pretty successful season." 
The men's volleyball team hosts Hunter College at 7:30 p.m. on Tuesday, Jan. 26.
A version of this article appeared in the Jan. 25 print edition. Email Ashley Arnold at [email protected]