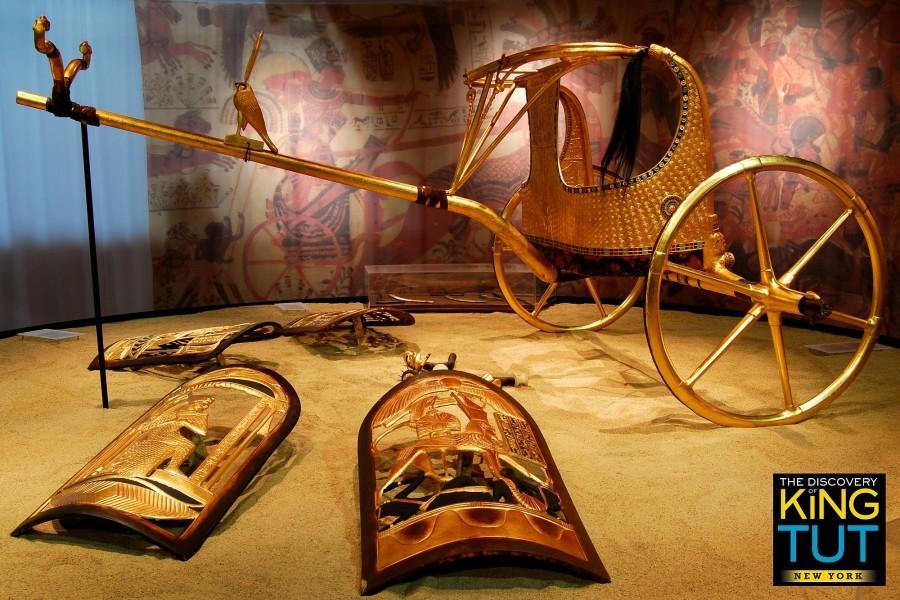 via facebook.com
Premier Exhibitions, the company behind "Saturday Night Live: The Exhibition," recently revealed its newest exhibit "The Discovery of King Tut," which allows visitors to travel back in time and experience the unearthing of the boy king's tomb. Filled with replicas and recreations of the tomb itself, this interactive exhibit is guaranteed fun.
Upon arrival, visitors are treated to a short film which introduces Howard Carter and his archeology team, who discovered the tomb. The film delves into the history of the dig, and the process of uncovering the burial ground. The reenactments were cheesy and overdramatic, but overall the film did an excellent job of explaining the history in a short, understandable way.
Following the video, visitors are led into a large, dark room where audio headsets guide the group from one display to the next. Among these displays are exact recreations of the sites the excavators saw when they first entered the tomb. Everything, from an ornate golden throne to a stack of wooden boxes, is placed so as to precisely convey the scene witnessed by those who first discovered it. The sheer detail and multitude of the objects displayed is impressive. Mark Lach, creative director for the exhibit, explained that as opposed to the 50 original artifacts on display from the tomb in Egypt, "The Discovery of King Tut" boasts over 1,000 artifacts, all created by Egyptian artisans.
The most impressive parts of this exhibit are the life-size recreations of the shrines. Like a set of Russian nesting dolls, the tomb consisted of multiple shrines within each other, all surrounding the innermost layer which contained a recreation of King Tutankhamun's sarcophagus. The recreations of these layers at the exhibition are truly spectacular. They are large, gold and touchable, which is a refreshing change from the hands-off displays at most museums.
Also on display are dozens of pieces of jewelry, multiple statues and a life-size golden chariot. However, the exhibit is not all visual. There are also interesting written pieces highlighting the King's familial history, and his time as ruler of Egypt.
While the notion of going to see a bunch of replicas and recreations might deter some people, NYU alumnus and Egyptology specialist Phyllis Saretta thinks otherwise. In a Q&A following the tour, Saretta divulged how the exhibit replicates the sense of discovery in visitors.
"You really get the feeling Howard Carter got when he saw this stuff," Saretta said. "The exhibition is more than the discovery. Seeing it through the archaeologist's eyes, and the dilemma of the archaeologists having to break that seal, something that wasn't open for thousands of years, his feeling when he approached the tomb, it's just fabulous. It's a really, really special exhibit."
"The Discovery of King Tut" is a thoroughly exciting exhibit that unlocks the archeologist inside each of us.
The exhibit runs until May 1, 2016, at Premier Exhibitions at 417 Fifth Ave.
Email Lily Dolin at [email protected]