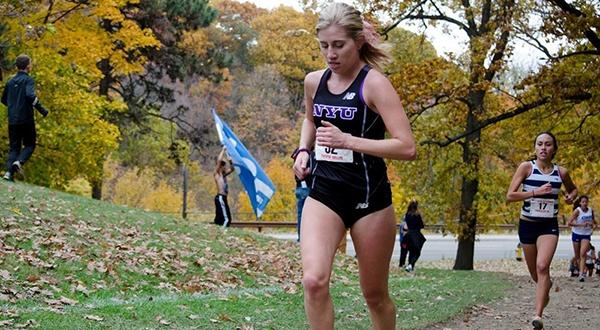 via gonyuathletics.com
In their most important meet to date, the NYU men's and women's cross country teams came up big, finishing fifth and 10th, respectively in the NCAA Regional Championships at SUNY Geneseo. Senior Lily Corsaro was the only runner on either team to qualify for nationals.
The women's team's top finisher was Corsaro, their captain. She took 29th out of 266 runners from 37 different schools. Sophomore Hannah Haley and senior Sarah Sisk placed in 52nd and 53rd place, respectively. As the only runner to qualify for nationals, Corsaro will keep her senior season alive for one more race as part of the Violet cross country team.
"I am excited to get another chance to participate at Nationals after being injured last season, especially as a senior for my last cross country meet ever," Corsaro said. "I am just hoping to position myself within the top 100 runners within the first 1k and then continue to move up throughout the race."
The top finisher for the Violets men's team was sophomore Karn Setya, who ran a 26:08.5 to place 27th out of 279 runners. The Violets totaled 197 points, far behind winner SUNY Geneseo, who ran away with the match with 54 points. Junior Jorge Maldonado was just behind Setya, finishing 28th. Because the men placed behind the University of Chicago at the UAA Championships, they were not ranked high enough NCAA Nationals.
"To not achieve even reaching nationals is frankly devastating," Setya said. "Nonetheless our future remains bright. We are graduating one senior from out top nine who went to regionals this year, returning eight guys out of nine puts us in a great spot next year. We have a lot of potential and we will be working harder than ever after this year and experience to make an impact on the national stage."
Corsaro will be the lone representative of the Violets next weekend at NCAA Nationals, where she hopes to end her cross country career on a high note.
A version of this article appeared in the Nov. 16 print edition. Email Ashley Arnold at [email protected]