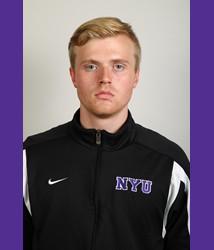 Via GoNYUAthletics
This past week, sophomore fencer Hans Engel took home the honor of University Athletic Association athlete of the week for the third time in his career. Engel, who won gold in epee at the Temple University Open, has come a long way since he first started fencing with his best friend at a young age.
"I started fencing when I was nine years old along with my best friend Toby, who now fences for Ohio State," Engel said. "We both thought it would be cool if they had sword fighting as a sport, so we looked up a local club online and signed up for a class."
Despite demanding most of his time, fencing remains enjoyable to Engel. He remains close to his teammates, despite the fact that they are split into three categories — epee, sabre, foil — and are inherently separate from Engel and the rest of the epees.
"The team is really fun and I have a lot of good friends." Engel said. "I would say the main problem is that because the three different weapons don't always practice together, there is a slight divide between the weapons, but it's not that big of a deal."
Outside of fencing, Engel enjoys music and reading, though he wishes he had more time to read books. Now studying in the Gallatin School of Individualized Study, Engel's initial career path was computer science, but he fell out of love with it and plans on picking it up only as a minor. His concentration at Gallatin will be focused on fashion and fashion business as well as the philosophy of aesthetics.
Engel wants to pursue fashion because he realized it was something that was always on his mind.
"I have always had a passion for it in some way," Engel said. "I decided to study it once I realized that it's something I think and talk about all the time."
He draws inspiration from fashion designer Rick Owens, whose outside of the box designs have been part of the reason Engel was drawn to fashion from computer science.
"I really like Rick Owens, his clothing has a certain aesthetic quality to it that I absolutely love," Engel said. "He takes a lot of inspiration from Brutalist architecture and I think to have an inspiration for clothing from another medium is a pretty cool concept, and of course his shows tend to challenge norms."
Even though he's changed majors, he's stayed focused within the discipline of his sport. He'll have a chance to improve on his accolades as the season continues on Dec. 6 for the Tradition Tournament at Sacred Heart University in Fairfield, Connecticut.
Email Ashley Arnold at [email protected]