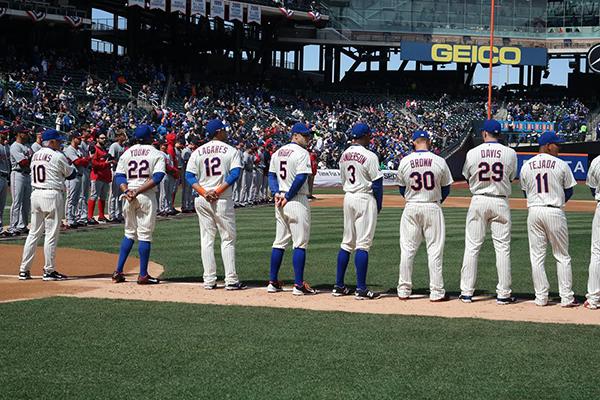 via facebook.com
Now that the World Series has wrapped up and basketball season has started again, New Yorkers have started to put away their Mets caps in exchange for Knicks or Nets snapbacks. We encounter fan gear every day — whether it's the boy in your calculus class repping the Chicago Bulls or the girl in your residence hall wearing a New York Rangers jersey. But I question how many of these people have been longtime fans or just decided to hop on the bandwagon. I wear my Yankees cap or my New York Giants T-shirt with pride in supporting my two favorite teams.
When the Mets made it to the World Series, I noticed an increase of orange and blue in the area. Suddenly everyone was bringing out his or her fan gear to show their support for the team. LS freshman Jonathan Avila, a fan of Real Madrid, said he didn't favor fans that buy gear only because a certain team is doing well for the moment.
"I think those who wear fan gear only when a team does well will switch teams frequently when the team isn't performing well," Avila said. "I feel that they should become fans and not bandwagon from one team to the next."
Wearing fan gear should not be something one wears because it is fashionable or trendy. Bandwagon fans wear gear for the wrong reasons. One should be supporting a team because they genuinely like them, not because they're currently doing well. Even if the team loses, you still need to support them. With true sports fans comes loyalty and dedication to the very end regardless if the team is winning or losing. LS freshman Ty Rivers sees fan gear as showing pride for the team you love and sticking to it.
"Fan gear is not only about supporting a team or a player, it's showing that you are proud, " Rivers said. "It's cool to stay loyal to a team that is not doing so well because that loyalty is respected among many fans."
Thankfully, after the season comes to an end, half of the fans who were bandwagoning lose their opportunity. Merchandise venues like Modell's, Dick's and Sports Authority donate the championship gear from the losing team to charities that give it away to impoverished areas that can make better use of it.
But for the everyday sports fans, be sure when you're walking down the street with your fan gear, you wear it with pride despite the team's performance. As true fans it is our duty and mission to remain devoted to our beloved sports teams.
Email Ashley Arnold at [email protected]