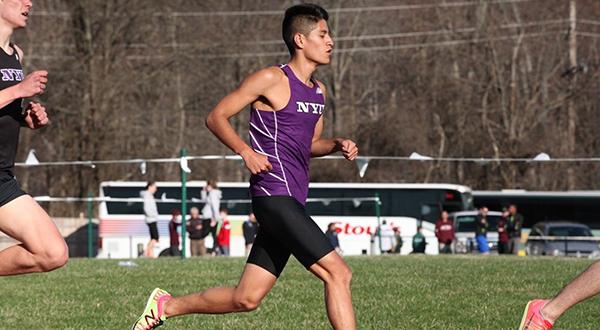 via gonyuathletics.com
Both men's and women's cross country teams continued their season on Halloween  weekend, competing in the University Athletic Association Championships hosted in Waltham, Massachusetts by Brandeis University.
The UAA consists of eight universities and had 76 runners participate in an 8K course this weekend. The men's team landed fourth, just a few points behind the University of Chicago. They totaled 81 points as a team.
Both junior Jorge Maldonado and sophomore Karn Setya made it in the top seven earning them first team All-UAA honors. Maldonado took fifth place with a time of 25:11, making him the top runner overall for the men's team. Just behind him with a time of 25:28 was Setya, who took seventh. Despite not finishing in the top three at UAA Championships, Setya believes the Violets are in a good position for their rem-
aining competitions.
"We believed we had a shot at winning the race and ran with that mindset," Setya said. "We definitely have the ability to secure an auto-bid to nationals and that remains our goal."
After four miles freshman Matt Osubor was close to placing second, but a cramp forced him to withdraw from the race. Senior Daniel Rieger managed to make it in the top twenty at fifteenth place. He was most pleased with the team's improvement over his junior year.
"A couple bad falls affected our scoring but otherwise we raced well and performed better than last year," Rieger said. "We look in good shape for regionals."
The women struggled more than the men, finishing last of eight teams with a total score of 229 points. The top runner for the Violets was Lily Corsaro who placed 35th with a time of 23:53. Hannah Haley was the only other NYU runner to manage top 50, taking 47th place.
"It wasn't our best showing," Haley said. "We are a hard working team and I am confident in our ability to perform better
at Regionals."
Both squads will be competing this Saturday, Nov. 7, at the ECAC Championship hosted by Williams College in Williamstown, Massachusetts for a chance to land a bid to nationals.    
A version of this article appeared in the Nov. 2 print edition. Email Ashley Arnold at [email protected]