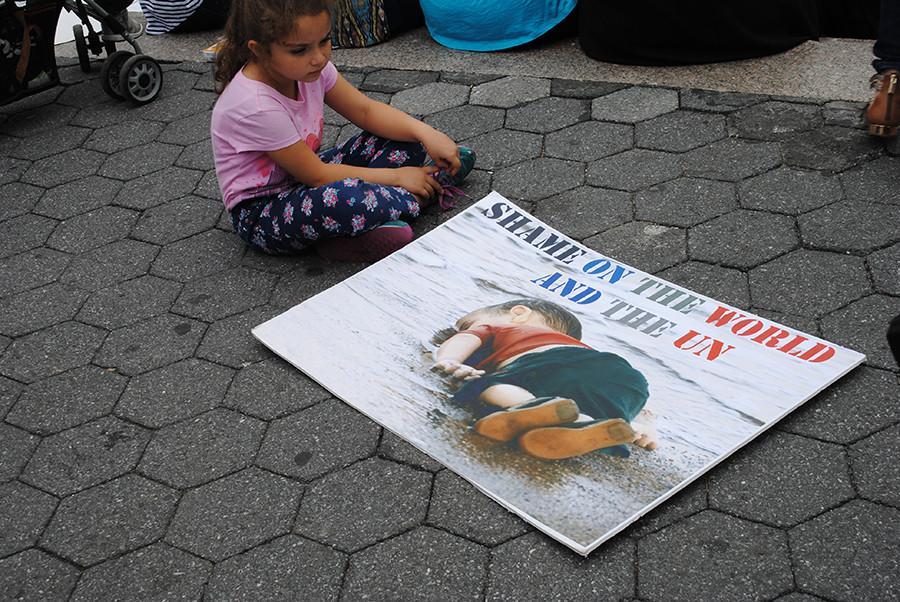 Grace Halio
As curious passersby looked on, a large crowd gathered in the plaza in Union Square at noon on Saturday, some waving Syrian flags and others holding up signs declaring "Refugees are welcome here" and "#NYCSaysWelcome." Organized by activists including NYU doctoral student Ella Wind and Stern graduate student Yusef Khalil, the rally was meant to draw attention to the plight of refugees being driven out of Syria by a violent civil war.
The rally took place a day after President Barack Obama announced that the United States would take in 10,000 refugees. The White House had previously said that only 5,000 to 8,000 would be offered refuge. Although speakers said this was progress, they argued that the country could accept many more refugees. Sarab Al-Jijakli, another one of the organizers, said this was progress but he is still disappointed in Obama's response.
"Obama has stated that he will allow up to 10,000 in a symbolic gesture to allow some people in," Al-Jijakli said. "But yet, the IRC — the International Rescue Committee — and other NGOs have stated that, at the very least, we should be allowing up to 65,000."
Two speakers at the event were Shafeka Hashash, president of NYU's Students for Justice in Palestine, and activist Hamid Imam. Imam led the crowd in chants such as "Save Syrian children" and "Let them in, let them in."
Linda Sarsour, sister of Al-Jijakli, highlighted the plight of the refugees, of which much of the public has not been aware.
"If they had a choice, they would stay in the beautiful country that they were born and came from," Sarsour said. "When people go to the point of risking their lives and the lives of their children, we shouldn't be asking whether we welcome these people into our country."
James MacDonald, a 66 year-old resident of Flushing, Queens, protested the rally, arguing that refugees allowed in by the United States could be terrorists.
"The FBI has admitted in the last couple of days that it is unable to tell which of these people has terrorist ties," MacDonald said. "I believe the FBI's statements, especially in light of the Obama administration's proven incompetence in anything to do with foreign affairs."
Zoe Margaronis, a Columbia sophomore, said she likes how much coverage is being given to the refugees.
"I think it's really important that finally the world and the media seems to be paying attention to what's happening," Margaronis said. "It's not a new phenomenon."
Sandra Soueid, 19, who attended the rally, was born and raised in the United States but has Syrian parents.
"My uncle was pulled off of a bus by someone from ISIS just because his name was written on a piece of paper they had," Soueid said. "I don't even know why his name was there. They kept him in a room for 24 hours, like, just standing there. They eventually let him go and he fled to Turkey."
Soueid added that it felt good seeing so much support from both within and outside of the Syrian community.
"It's the first [rally] that I've seen so many non-Arab, non-Syrian people here," Soueid said. "It's really awesome that so many people came out here in solidarity. I like that this movement has really been picking up."
Additional reporting by Christine Wang.
A version of this article appeared in the Monday, Sept 14 print edition. E-mail Maddie Norwood at [email protected]
CORRECTION: A previous version of this article mistakenly identified James MacDonald as a Chicago-based pastor. The article has been updated to reflect Mr. MacDonald's actual identity.