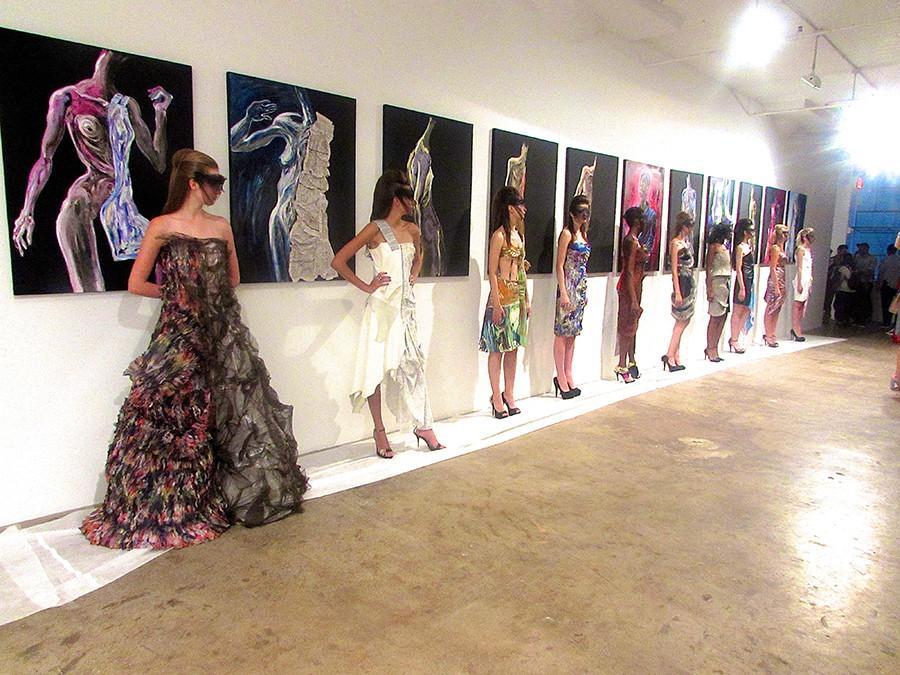 Ashley Arnold
Upon the beginning of a Katya Leonovich presentation, there is instantly an element of surprise. The lights dim, the bass in the music drops, and then the models appear into a sudden spotlight.
The models, styled with high ponytails and net masks, were truly an artistic canvas, evident in the clothing through the designer's chosen medium of paint. The theme of the presentation was to showcase the marriage of Leonovich's passion for painting and fabric. The show was the blending of two mediums.
The Spring/Summer 2016 collection "Bisecting Beauty"  was refreshing in that there were only ten total pieces — dresses with their own specific detailing. While one dress featured the silhouette of a ball gown and was constructed out of tulle, another dress followed a trend more popular in the early 2000s with a knee-length cut and  a draped hem.
The most creative aspect of the entire collection was how each piece had either a direct "copy of one of the [many] paintings or it was designed from the theme of one of the paintings," Katya Leonovich said.
Leonovich was successful in capturing the creativity of her own visual art and translating it into a wearable collection. The elements of the dresses coincided with the quirky character that is Katya Leonovich and the whimsy that is her world.
Mallori Albright is a contributing writer. Email her at [email protected]