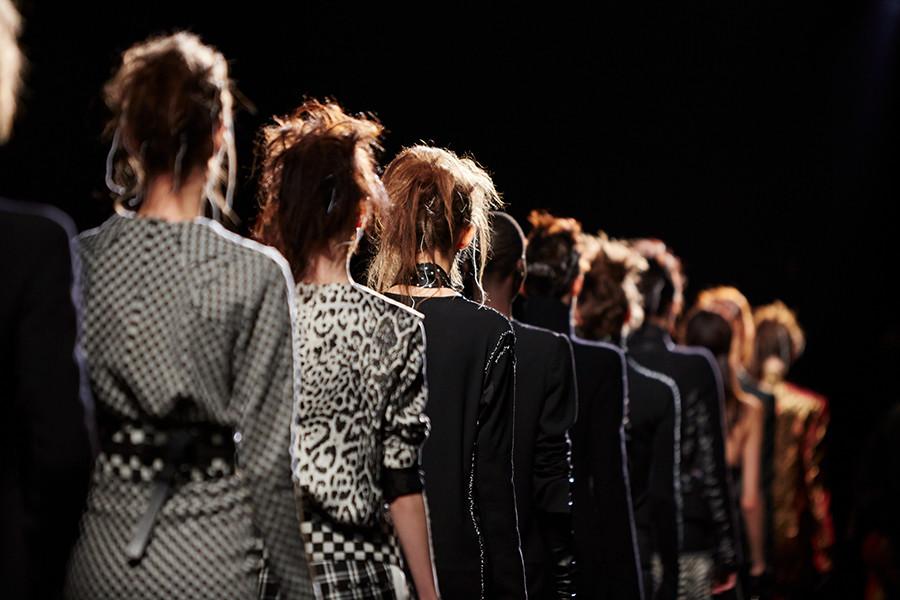 via flickr.com
For the final leg of Fashion Month, the industry flocked to Paris for the Fall/Winter 2015 shows. Fresh faces, masculine silhouettes and pastels dominated the runways.
At Christian Dior, long and lean silhouettes in bold reds were juxtaposed with more frilly, pale pink A-line ensembles. Abstracted animal prints brought variety to the collection. Pencil skirts, long tunics and and a bright pantsuit brought just about everything into the mix. For makeup, Dior unveiled what was either an unblended smoky eye or a very, very thick liner. The avant-garde look popped against the colorful line and set models apart from those in other collections.
With the exception of crazy eye shadow at Dior, models sported fresh faces and neutral lip colors.  For many collections, hair was styled modestly — slicked-back buns, long-side ponytails and neat straight hair let the clothes speak loudest.
Highly detailed leather boots in muted tones were seen at Isabel Marant. On the other end of the spectrum were brocade sandals at Dries Van Noten in classic fall burgundy and gold. Rochas featured a spectacular pair of embellished burgundy stacked heels — a chunky stiletto may just be the new statement shoe for a night out.
There were bold belts at Balmain and Lanvin, another tribute to the '70s trend this season. Some were mod, bright and geometric, while others were tasseled and flowing. The geometric motif continued at Loewe and Carven, where bags were shaped and embellished with geometric inspiration and accessories were rounded and retro. Gaia Repossi and Annelise Michelson showed delicate and simple bent wire jewelry that was highly versatile. Delphine Deafen, Lancel and Moynat showed streamlined leather bags in classic shapes — bucket bags, satchels and portfolios in black, white and a pop of red.
Alexander Wang debuted a collection for Balenciaga in a clean black-and-white palette, combining the masculine and the feminine. There were tweed skirts, plaid fabrics and skinny cropped pants. At Isabel Marant, a similar vibe was seen on the runway. Some looks were frilly, while others channeled military tailoring with the added fall classics of chunky knits and heavy boots.
The menswear-inspired vibe was also seen at Loewe, where designer Jonathan Anderson reworked men's fashion into billowing tweed pants and oversized leather jackets. Geometric patterns were featured on bright skirts, which were paired with high fitted leather boots. As seen at NYFW, spring pastels were in Paris, while a shiny, candy apple red coat commanded attention.
The looks at Lanvin were a combination of military pantsuits with clean lines and feminine A-line gowns with leather detailing. Bohemian looks ranged from long dresses to printed pants, perfectly embracing a range of styles. At Carven, bright, skinny, cropped pants and miniskirts eluded a young, school girl-esque vibe. There were electric pops of color at Balmain, a range of pastels at both Carven and Dries Van Noten as well as orange and blue florals that broke up the classic fall hues of many of the other collections. These unexpected floral patterns were a relieving touch to a Fashion Month dominated by heavy embellishment and '70s silhouettes.
A version of this article appeared in the March 11 print edition.  Email Grace Halio at [email protected]