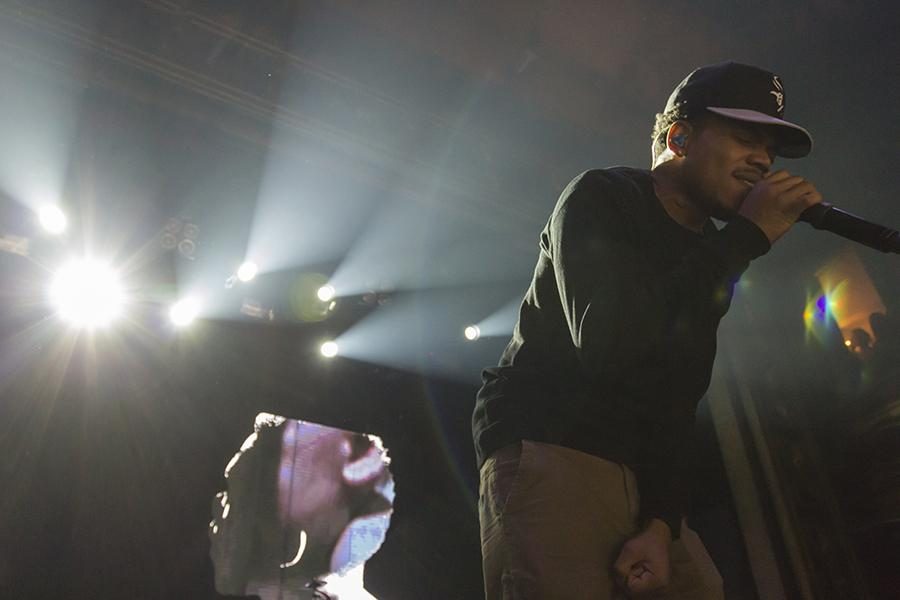 Shawn Paik
As part of NYU's official spirit week, Chance the Rapper & The Social Experiment took over Webster Hall on Tuesday, Feb. 24.
Drawing in fans immediately, Chance started his set with "Everybody's Something," from his 2013 mixtape  "Acid Rap." The first part of Chance's set included mostly newer material, as he followed with "Pusha Man." Though both songs typically feature other artists — Saba, BJ The Chicago Kid, Nate Fox and Lili K. — Chance & The Social Experiment brought heightened energy to the performance, even without the other artists. After finishing "Pusha Man," Chance took the opportunity to formally introduce himself to the sold-out crowd.
Chance has made some interesting career moves since his last New York performance, foregoing his solo career to include The Social Experiment. Their liveliness enhanced the performance, increasing the  set's musicality and strengthening its energy.
The addition of The Social Experiment not only added energy,  but also constructed new renditions of Chance's older songs. Not neglecting early fans, Chance performed tracks from his 2012 release "#10Day," including "Prom Night" and "Hey Ma." The combination of Chance's older songs with The Social Experiment's new renditions recreated the older tracks, putting new, jazzier spins on them.
Chance, already an energetic performer, frequently thrived off The Social Experiment's instrumental contributions, exemplified by the rapper's free-flowing, carefree dancing that corresponded with the band's roaring horns and powerful, driving percussion. Chance's undeniable energy is amplified by his natural stage presence and his ability to catch the crowd off guard.
"Pay attention, because I might just — 1, 2, 3," he counted down, before unexpectedly jumping into "Favorite Song."
It is hard to find a performer who is as engaged with the audience and who sincerely loves performing as much as Chance the Rapper. Pulling in the audience with his magnetism, he continuously exuded passion for this performance dedicated to NYU students. Chance noticed the performance's significance to the NYU crowd.
"Y'all are here because you go to NYU," he said. "So when I say NYU, I'm talking to you. Let's have some school pride. I've never played NYU before, but I'm excited to see what you guys bring."
Presenting an eclectic setlist, Chance performed a range of older tracks to newer ones, including "Juice," "That's Love," "Cocoa Butter Kisses," "Everything's Good" and "Sunday Candy." Before concluding his set, Chance acknowledged that he would be performing the one track that the audience members were waiting for.
"Can this be the one song that I've been alluding to all night?" Chance asked. "Can this be the best show I've ever been to?"
Chance ended the show with the awaited "Chain Smoker." His high-energy style, smooth lyric delivery and seamless dance moves never faltered in this intimate, NYU-centric performance.
Email Alexa Spieler at [email protected]