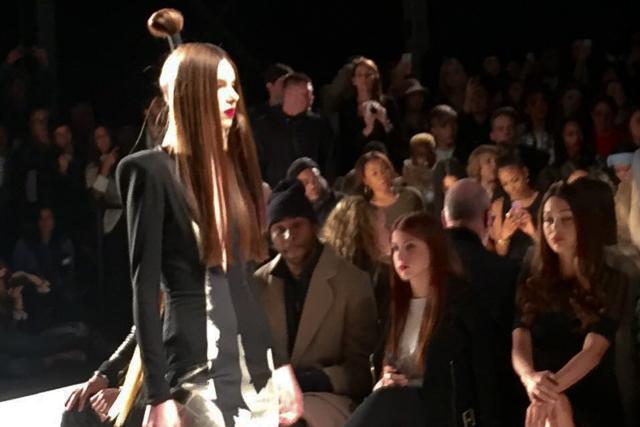 Grace Halio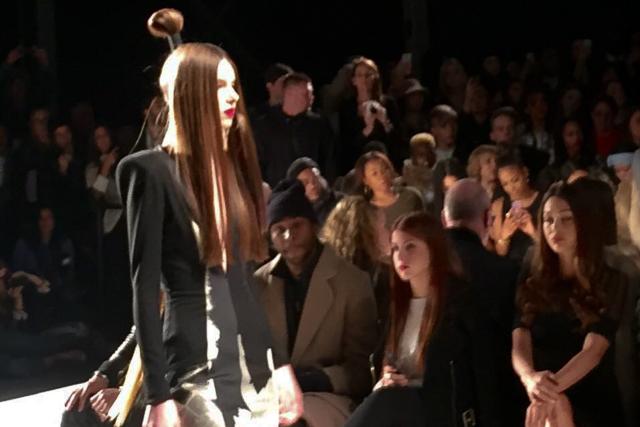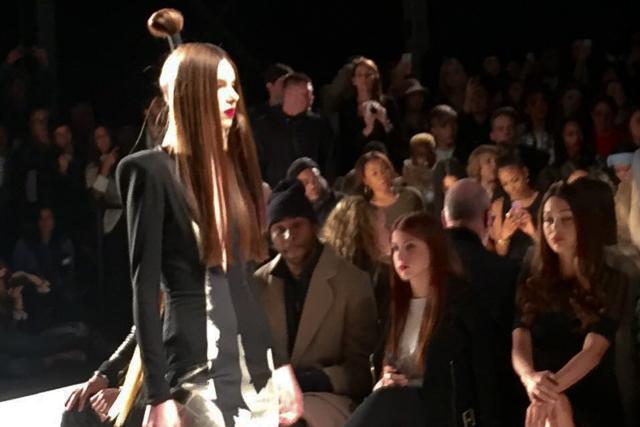 Michael Costello, who many know as the designer of Beyonce's 2014 Grammys dress, showed a monochromatic Fall/Winter 2015 collection at Lincoln Center's Salon earlier today.
Costello was inspired by Japanese, Parisian and British influences. "The modern woman is seductive and natural, and demands attention," he said, shedding light on his collection.
Minimalist sheath gowns featured cutouts, open backs, sheer sleeves, and black lace. Full, flouncy skirts were paired with large jackets that resembled a material made of neoprene, reminiscent of the layers often seen on those out and about in London.
One beautiful look evoked a bit 50s Parisian glamour: a sleek mid length circle skirt was paired with a glitzy long sleeve crop top. It was a timeless and effortless pairing. Other women's looks included tailored long sleeve, flair leg jumpers and jackets with pointy, padded shoulders.
The entire collection was black, with the exception of a few interspersed fur jackets that were predominantly gray and white. Dresses in the latter end of the collection sparingly featured black and grey abstract prints. Though black is classic, it never hurts to incorporate a pop of color to keep the eye excited. Bright blue and yellow handbags broke up the monochromatic element of the collection.
Models strode down the runway in platform stiletto heels and boots. They sported bright red lips, contrasting the garments. Hair was pulled up into a high bun atop the head, while the back was pulled into a sleek low ponytail, giving off a Japanese vibe.
The former Project Runway designer featured a few menswear looks in the collection. They too were black and grey. One sport jacket stood out as Costello put a twist on the typical look by using a beautiful fabric that was reminiscent of Carrara marble.
As models took their final walk down the runway, Nicki Minaj's "The Crying Game" blasted out of the speakers. The energy of Costello's show and and diversity of the designs was truly memorable.