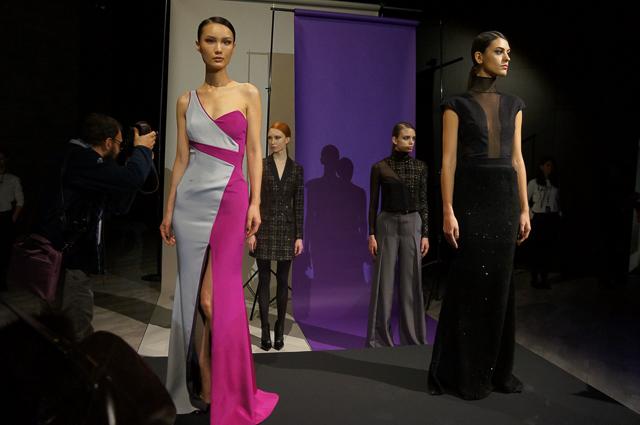 Emily Harris
Jay Godfrey's Fall/Winter 2015 collection was a stunning melange of luxurious silks, mesh, neutral suedes, and thick knit plaids. Although most fabrics were of a generally safe color palette, several looks stood out with neon pinks and vibrant floral prints. Together, the collection was cohesive—an ideal balance of sophistication and youthfulness.
After graduating from Parsons School of Design, Godfrey interned for the late Oscar de la Renta before starting his own line. "I was very very lucky to be in the right place at the right time," Godfrey said.
"Even at Parsons, they probably shouldn't have let me in, I really had no prowess prior but I convinced them that if they taught me, I would work my ass off. I was in the right place at the right time when it came to getting an interview with Oscar, and I was very very lucky. I learned so much— a great deal about fabric, construction, and what women want."
Several of the most memorable pieces from Godfrey's collection pay an homage to the designer's experience with Oscar de la Renta— combining precise tailoring with an exquisite selection of fabrics.
"The Jay Godfrey woman's got a little bit of uptown, and a little bit of downtown, confidence, she likes to be sexy in a sensual yet tasteful way and she loves tailoring," Godfrey explains.
One look, a simple floor length black jumpsuit, seduced the eye with a plunging neckline that halted at the waist with a silk rose tie. This charmeuse was seen again in a draped gown, slit high up the left leg and paired with a plaid suede moto jacket. De la Renta would be proud.
When asked about the future of the brand, Godfrey states, "I want to expand the brand into different realms— hotel rooms in Asia, our new bedding line that's coming out— that to me is where I am feeling very excited. I'm always excited about coming in every day and designing the collection, and looking at our girl and providing newness to her."
Email Kate Marin at [email protected]