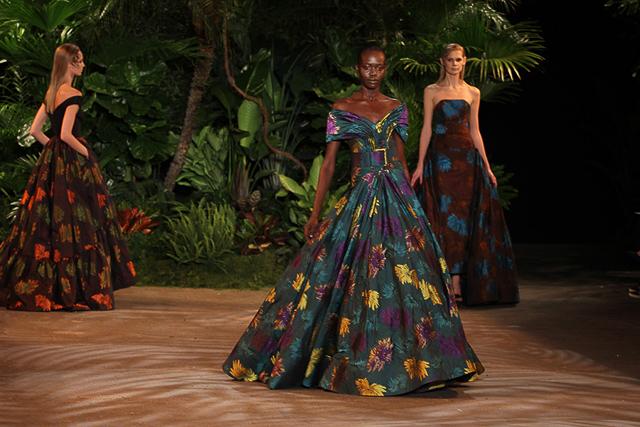 Shawn Paik
Christian Siriano presented his Fall/Winter 2015 collection at ArtBeam, inspired by the Congo Jungle that strived to be bold, yet hold true to his romantic aesthetic. A jungle scene, channeling that of one in the Central African Republic, was the backdrop for the forty-six looks he presented.
Models in brown and tan animal prints took the runway to the beat of Creep's "Animals". Oversized wool collars and neutral, streamlined skirts were accented with geometric-print platforms. A tan alpaca wool coat was paired with a rich, port, turtleneck dress. The color scheme of the first few looks allowed the collection to seamlessly segway into shining bronze-gold silhouettes. Models in fitted knee-length spaghetti strap dresses and long sleeve tunics paired with wide-leg trousers stood out against the luscious foliage that they emerged from. Looks were paired with elegant, boxy, patent-leather bags in black or emerald.
Ultra-shiny black silk pencil skirts were shown with short sleeve tops and jackets. Chunky black open-toe heels donning a furry fringe on the back completed the looks. Unfortunately, it appeared as if the shoes had tails tacked onto the back of them, perhaps taking the animal-jungle theme a bit too far.
Another trend seen at Sirano's show were wide belts, reminiscent of the 1950s. They often matched the collars of the pieces, and contrasted the rest of the garment, certainly creating a statement.
A short grey dress with a plunging v-neck was veiled in grey tulle; it was lavish yet muted. Black feathers covered longer gowns, and models sported full skirts of small feathers that bounced as they stepped down the runway. The moment created by the dresses left the audience in awe of its beauty.
As the show evolved, a brighter color palette emerged, incorporating florals. Jacquard tops and dresses had flared-out sleeves. Drop-waist gowns had beautiful off the shoulder v-necks or simple straight necklines, but the thick belts made a reappearance and drew the eye away from the beautiful tailoring.
The colors towards the end of the show were reminiscent of a cornucopia or thanksgiving table: brown fabrics were dotted with rich oranges and greens, or on other pieces, turquoise and blue. Fortunately, the ruching and proportions of the impeccably fitted gowns gave the eye another point of focus.
Siriano's show, despite it's small color hiccup, was strong. Guests in attendance included Kelly Osbourne, model Coco Rocha, Ke$ha, and Rachel Brosnahan of House of Cards. At the end of the presentation, models convened and strutted down the runway together, showcasing the strength and beauty that the designer is known for.
Email Grace Halio at [email protected]