Sam Bearzi
It is 9:30 a.m. on a Wednesday morning at the Jay Street Metrotech Building in Brooklyn, and Colin Waddell is helping teenagers boil eggs.
"All right, does everyone have it running now?" Waddell asks the 17 rowdy high school students he is working with as a teaching assistant. Each group in his lab section is using foil and styrofoam cups to insulate an egg as effectively as possible, which is tested by boiling them on a hot plate. Waddell goes around making sure all the students are ready to boil.
"You're good, you're good," he tells the first few groups. "Ok, so guys, you've got to make sure your cord is connected for the hot plate to work."
That is most of what Waddell, a Poly senior, does with his time: puts students on the same wavelength — whether it is by teaching them in his lab section or by representing them as the first student senator from the Polytechnic School of Engineering.
In addition to being a student senator, Waddell is the chair of the All-University Events Committee, a Welcome Week captain and vice president of finance of the Class of 2015 Activities Board. He uses these positions to help coordinate events like the '90s Brooklyn Bash and the NYU Senior Showcase. His hope is that supporting campus life will bring students from both campuses together to create a more integrated university.
"I really feel like the way to bridge the gap is through events," Waddell said. "Getting the students to be face-to-face with each other — having a Brooklyn student at an event with a Washington Square student and having them talk."
This kind of cross-college community, however, was not something Waddell thought he would be a part of when he applied to then-Polytechnic Institute of NYU. Waddell said when he was accepted, he knew the merger would be complete before he graduated, but assumed he "wouldn't really be an NYU kid."
"I went on a tour of NYU and I didn't like it," Waddell said. "Something about NYU didn't click for me immediately. But then, when I visited Poly, the girl who was giving me a tour was an electrical engineering major so she talked to me about what research she was doing, she showed me around the labs, and I just thought it was so cool. It clicked immediately. And I just figured that when I came here, I'd spend all my time in Brooklyn. Clearly that's not the case. I now love it at NYU."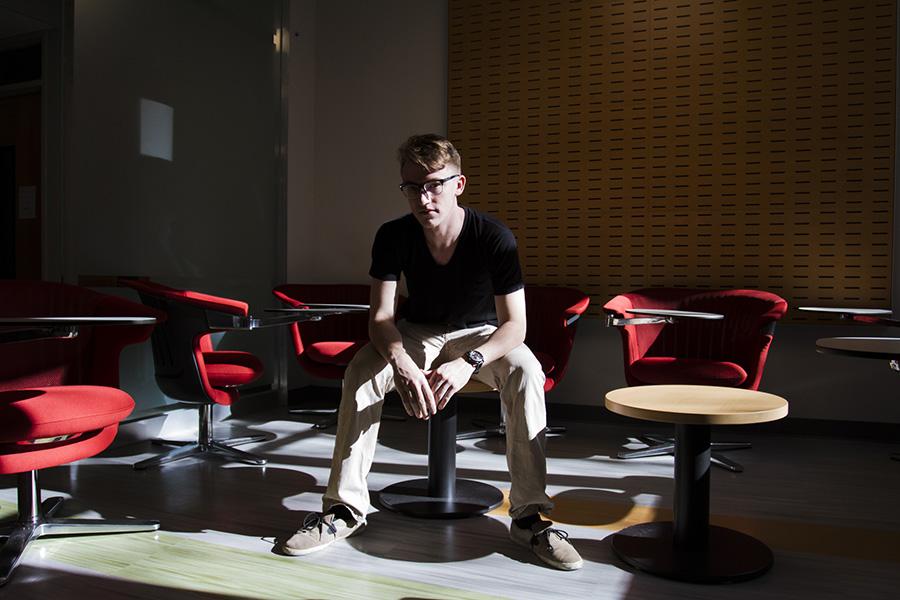 Waddell said he learned to love the Washington Square campus after he decided to help lead the Welcome Week before his sophomore year. As Student Resource Center assistant director Zach Harrell recalled, Waddell was not even finished with his Welcome Week training when he decided he wanted to be more involved on both campuses.
"Me and my colleague at the time led a training session about how to market yourself as a leader on campus, and immediately after that presentation Colin came up and said, 'I want to be the first Poly Welcome Week captain,'" Harrell said. "That stuck in our mind, and throughout the week he definitely shined and was very visible and he did end up being our first School of Engineering captain."
Since then, Harrell said Waddell has encouraged other engineering students to get involved as Welcome Week leaders, members of CAB and active participants in all-university events. Waddell, too, has benefited from his involvement.
In spending more time at NYU's main campus as an ambassador, Waddell said he was able to experience more of what the university had to offer. He was exposed to campus life he would never have gotten at Poly, met his girlfriend — now a Steinhardt alumna — and met his closest group of friends through his student leadership positions.
After the merger finalized, Waddell started crossing the East River even more for classes at the main campus, his work with CAB and meetings for the University Senate and Student Senators Council. While the Brooklyn campus and the Washington Square campus have cultural differences — including study habits and gender ratios — Waddell said the biggest thing dividing the two campuses is the 20-minute subway ride.
"I think that the reason it's so difficult and the reason it feels so separate is because we are physically separate," Waddell said. "They sometimes feel like they're students of Poly first and foremost before NYU, which is fine, but I feel like they should also feel like students of NYU."
Email John Ambrosio at [email protected] A version of this article appeared in the 2014 Influential print edition.