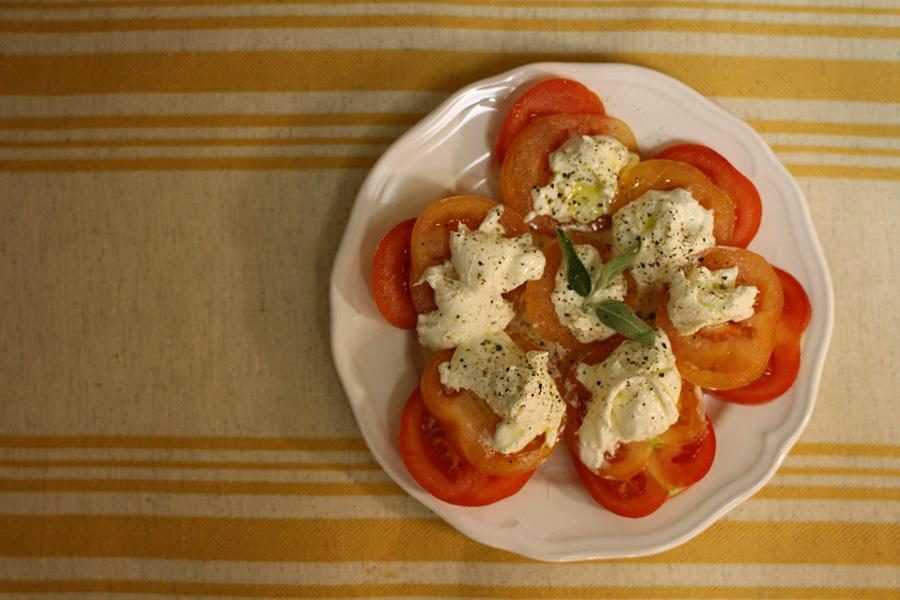 Stefanie Chan
The burrata cheese craze is conquering New York City. Burrata, a form of mozzarella cheese that is filled with a cream and cheese mixture, has been appearing in dishes at many popular restaurants. An increasing number of restaurants are offering the delicacy, prepared in both traditional and exotic ways.
Burrata originated in the Apulia region of southern Italy. It was first produced in the 1920s on the Bianchini farm, but became more popular during the 1950s when local cheese factories began to produce it. Even after the specialty became more widely produced, burrata was still considered a premium product.
Many recognize burrata as mozzarella's cousin. The beginning product is similar to mozzarella. Although both types of cheeses go through the "pasta filata" process, which stretches the cheese in hot water, burrata forms a hollow pouch during the process. The pouch is filled with a mixture of warm mozzarella and fresh cream, and then tied at the top to enclose the soft center.
One of the most important qualities of burrata is its buttery and milky consistency, as the name translates to "buttery" or "buttered" in Italian. Only buffalo or cow's milk, rennet, and cream are needed to make the cheese. Since it uses so few ingredients, the taste is based on the quality of the ingredients and the skills used when making it. Freshness is also an important factor. Burrata is best when served within 48 hours after it is made.
There are many places around the city to enjoy the burrata specialty. Murray's Cheese Bar, located at 264 Bleecker St., serves its burrata with crispy artichoke and grilled bread. The Murray Cheese Store down the block offers a BBLT Melt including bacon, burrata, lettuce, tomatoes and pesto aioli.
On the Lower East Side at 314 W. 11th St., The Spotted Pig has a dinner menu that includes burrata with creamy beans and salsa verde, providing a Mexican-esque take on the Italian dish. The Smith, located at 55 Third Ave., offers a burrata appetizer with tomatoes, balsamic and cracked pepper on grilled ciabatta as another less traditional combination.
The most exotic combination can be found on the brunch menu of the famous Trattoria Il Mulino in Greenwich Village at 86 W. Third St. This restaurant offers the ultimate sweet and savory dish — burrata French toast. Although it is priced at a costly $19, the burrata French toast includes a thick piece of egg, sugarcoated brioche bread and house-made burrata stuffed with ricotta, all covered in a fresh blueberry and orange sauce.
Whether you decide to try a traditional or more unique burrata dish, it definitely will not disappoint. This cheese trend continues to prosper with its rich texture and unique taste. 
A version of this article appeared in the Tuesday, Nov. 25 print edition. Email Caroline Ogulnick at [email protected]