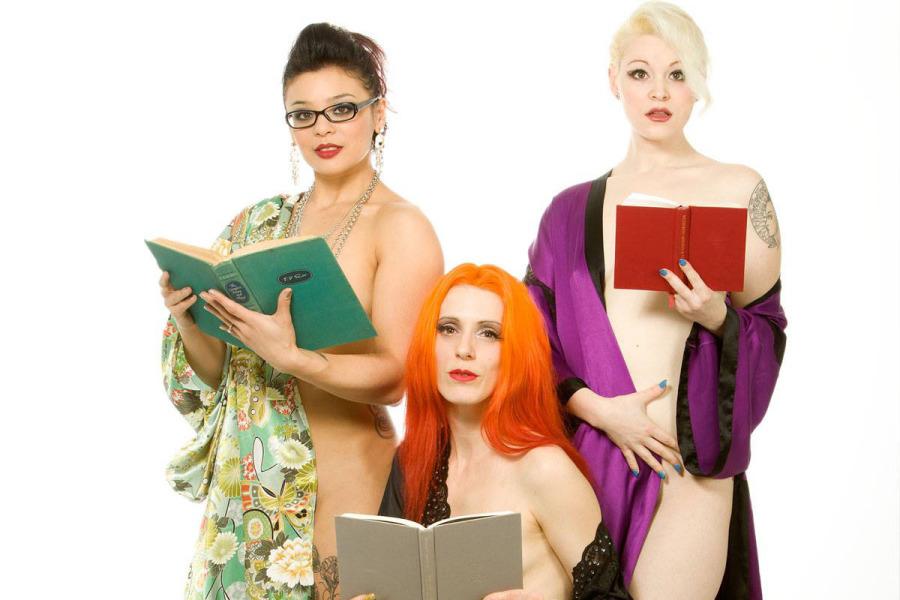 via Facebook
Naked Girls Reading is an experiment in the strange but wonderful world of burlesque.
At one of the shows, audience members may find themselves enraptured by the strong voices of the performers reading poetry and prose, guffawing at the bawdy humor or tearing up to soft, melancholic whispers of Dr. Seuss.
Started in 2009, Naked Girls Reading held its first performances in Chicago, styling itself as a literary event with an unprecedented degree of intimacy. Bursting onto the burlesque and literary scene, people started flocking to the shows, intrigued by the attention-grabbing premise it presented. Now, Naked Girls are reading in more than a dozen cities worldwide including New York, where they hold performances monthly on St. Mark's Place and will be celebrating their five-year anniversary in the city on Oct. 15.
The premise itself is simple. A group of three to four women — some performers, others authors or librarians — stand on a stage in front of an audience, remove their clothes, and proceed to read aloud a small selection of literature. While one woman reads, the others inject their own comments, ranging from thought-provoking to downright hilarious.
Featuring women with names such as Nasty and St. Stella, it can be easy to mistake such an event for being less than wholesome. It is made immediately apparent, however, that these women are not merely eye candy. They are performers carefully acting out a script. They stand boldly in front of the audience, belting out intense action sequences before quieting down to a hushed whisper as the tension builds. Then, they burst out in a flurry of words and motion, striding across the room as they bare their bodies and shed their own inhibitions and the audience's insecurities.
It is not merely mindless recitation that the audience enjoys. Inflections of tone add a humorous twist to a badly written bodice-ripper, or a croaking voice turns a vampire novel into a shiver-inducing thriller. The choice of literary works is eclectic, derived from the personal interests of the performers and leading to comic results — a busty blonde performer reading sensually from her grandmother's cookbook, for example.
Yet the majority of the readings fall within acceptable bounds of literary taste, with particular gems including books by Kurt Vonnegut, Ray Bradbury, Jim Henson, Dr. Seuss and other classics making an appearance. These stories are treated mostly with reverence. A short introduction by the performer shows the audience her personal connection with the book, creating a certain intimacy in the performance that most other shows in the city simply are not able to provide.
Don't be misled by the name. Naked Girls Reading is not pornographic or overly vulgar. The troupe of women creates a thrillingly fun time and an intensely engaging literary experience.
A version of this article appeared in the Tuesday, Sept. 22 print edition. Email Benjamin Mok at [email protected]