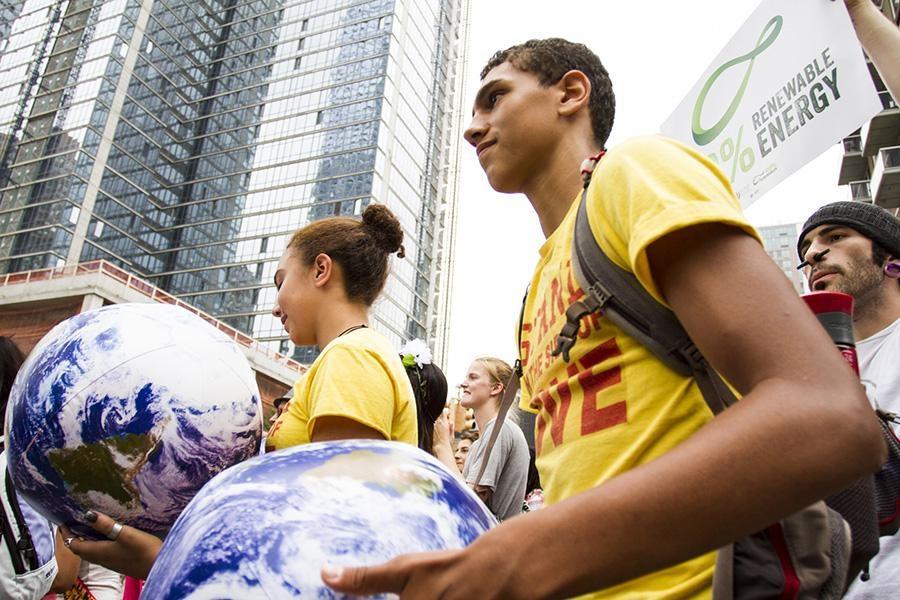 Daniel Cole
Approximately 400,000 people gathered on Central Park West between 65th and 86th streets on Sunday, Sept. 21, for the biggest climate-change march in history.
The People's Climate March was organized to spread awareness for global warming and to encourage U.N. officials to take action against climate change during the Climate Summit on Sept. 23.
The summit is the first time in five years that world leaders have gathered to discuss climate change. While not part of a formal U.N. negotiation process, it serves as an opportunity for world leaders to pitch ideas and make announcements regarding climate change. A formal negotiation session will take place in Paris at the end of 2015.
For over two hours, participants in the march walked almost three miles chanting, singing and waving colorful signs and banners.
Upon reaching the end location on 11th Avenue between 34th and 38th streets, marchers continued to rally with call-and-response chants.
The march also included a moment of silence in remembrance of those who have already suffered at the hands of climate change.
Marchers hope that their actions on Sunday will put pressure on world leaders to take progressive action.
"It makes me happy to see this big turn-out," environmental activist Lisa Beckerman said. "Hopefully it is enough to grab [the United Nations'] attention. I understand that change takes time, especially with all of the other pressing issues taking place in the world right now, but that time is now."
The march was centered in New York, but thousands of people all over the world gathered in solidarity, resulting in demonstrations in cities such as London, Paris, Berlin and Rio de Janeiro. Ultimately, there were over 2,800 events in 166 countries.
CAS freshman Noelle Haven Kruse attended the march and said it was crucial in making a difference.
"Individual organizations don't send the same kind of message as bringing together every culture, every country, every religion all at once with a common goal," Haven Kruse said. "It's such a divided issue, but we have to come together because this is where we all live."
Justin Wood, the environmental justice community organizer for New York Lawyers for Public Interest, maintains it is still key for those who want to make a difference to look at the issue on a local level.
"It's really important for people in New York or wherever they live to link up with groups or campaigns that relate to this in a local way in their communities so that we have sustained advocacy and change coming out of this," Wood said.
The marchers supported a range of environmental causes and advocated for the protection of the Earth's natural resources. Some marched for their grandchildren and future generations to live in a better world. One sign raised in the crowd read "I'm marching for my grandson Nathan," and  another read "Won't somebody please think of the children?"
Sue Peterson, an environmental activist from Massachusetts, held her granddaughter's hand in one hand and a picket sign that read "Wake up" in the other.
"Right now we are driving the planet over the edge, and something needs to be done about it," Peterson said. "We are not only destroying the only world we have, but are also destroying it for every other generation after us. I am thinking of my grandchildren when marching. It is them I am worried about."
Rod Lincoln, an activist from Pennsylvania, echoed Sue's sentiments.
"It is our generation that has created this problem for our children, grandchildren and all subsequent generations," Lincoln said. "Therefore it is now our job to bring awareness to the young kids, and hopefully push them to solve the problem they have been handed."
A version of this article appeared in the Monday, Sept. 22 print edition. Email Alex Bazeley, Andrew Mei and Romie Williams at [email protected]