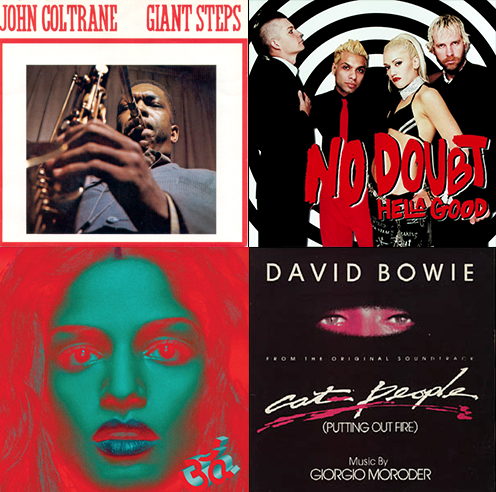 Here are some of our staff's favorite pump-up songs to keep you from falling asleep in Bobst Library during your second week of school:
"Giant Steps," John Coltrane
Lacking an obvious four-four time signature or lyrics of encouragement (or, indeed, any lyrics at all), this jazz classic is not an obvious choice for your second-week slump. But when has the obvious choice ever been the best choice? Restless and relentless, this piece can be the soundtrack for your first all-nighter. When the eyes are drooping and legs are giving out, Coltrane's stern yet silky sax will get you moving in a productive kind of way.
— Casey Dalrymple, Assistant Managing Editor
"Cat People (Putting Out Fire)," David Bowie
Made for Paul Schrader's 1982 remake of the classic horror film of the same name, and featured prominently in Quentin Tarantino's "Inglourious Basterds," David Bowie's "Cat People" begins as a sultry, slow-paced revenge tune before breaking into an electric guitar-fueled power song. As Bowie croons about "putting out the fire with gasoline" and making more trouble for himself, it is hard not to head-bop along to the song's catchy beat.
— Alex Greenberger, Arts Editor
"Hella Good," No Doubt
For those looking for a blast from the past, No Doubt's "Hella Good" is the perfect tune for any occasion. With electro, rock and funk influences, the track's beat is irresistible. The lyrics are fun and uplifting, and Gwen Stefani delivers them with her signature confidence and playfulness. Whether you're going on a run or getting ready for a night out in the city, the song is sure to lift your spirits. It's hella awesome.
— Cicek Erel, Web Managing Editor
"Y.A.L.A.," M.I.A.
If you're done pumping yourself up with the overused colloquialism, "YOLO," M.I.A.'s "Y.A.L.A.," from "Matangi," could be the next tune to get your adrenaline going. Taking from the philosophy of karma, M.I.A. spins "you only live once" around and convinces the listener that the only way to live your life is by knowing that "you always live again." Next time you're pre-gaming or in need of a rush of energy, do it to the chaotic electronic vibes and groundbreaking beats of "Y.A.L.A."
— Kavish Harjai, Web Managing Editor