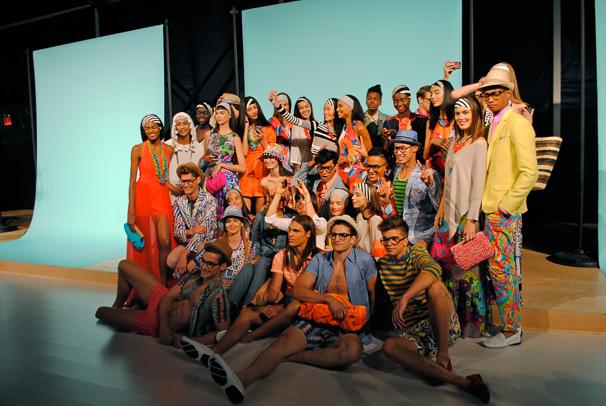 Photo by Grace Halio
Trina Turk's Spring/Summer 2015 collection began with an upbeat, breezy space filled with blooming floral prints and energetic hues of pink and orange. Turk's cheeky theme this season was "Pop Art Flower Mart." Models stood in groups of three against teal-blue backdrops that lined the spacious walls.
It was certainly reminiscent of the California native's inspiration: the LA Flower Mart. The grouped models and vibrant backgrounds almost mirrored various flower stands within the relaxed and whimsical market. Models even snapped selfies with each other and weren't afraid to make a few funny faces with guests.
Around the Salon, neons and poppy prints were peppered with crisp white textured fabrics. Mr. Turk menswear looks, designed by her husband Jonathan Skow, were dotted throughout Trina Turk's collection. Plaid suits, sunny yellow jackets, and understated pastel animal prints stood out among the best men's looks.
Both Turk and Skow joined the summery party halfway through the presentation, all smiles.
"My favorite look in the collection would be the Red Hot crepe & chiffon hostess one-piece. It reminds me of a summer cocktail party in Palm Springs!" Turk said.
Other key pieces in the collection included big necklaces in punchy pink and classic black, as well as bright clutches and totes that were perfect for a lunch out or a walk on the boardwalk. Bright blue eye makeup, rosy lips, and thick striped headbands à la 1970s pulled the looks together perfectly.
Turk's glamorous and sunny collection certainly made everyone wish that summer were here to stay.
Email Grace Halio at [email protected]