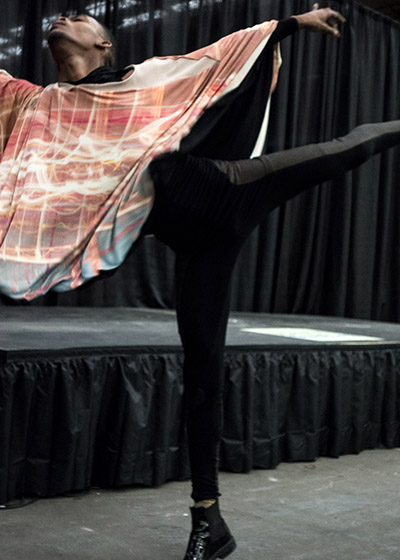 Facing high expectations in terms of style and sustainability, TILLYandWILLIAM certainly proved capable of meeting both. Designer Jessica Lapidos displayed her collection as part of the city's Green Festival at Pier 49.
Though set in a rather lackluster stage and environment, the show's authenticity and aesthetic definitely stood out.
The focus of the clothes, which use a minimal color palette, remained on the construction. Loose-fitting fabrics draped over the models made movement a primary theme in the show.
The theme of mobility was extended as the models took their places along the stage and changed clothes with beautiful, dance-like motions.
The somber music changed, giving way to a funky and whimsical mood. Ponchos and capes reversed to reveal vibrant digital prints. Shirts became dresses and dresses became skirts.
As part of Fashion Fights Poverty, an organization that raises awareness for effective and sustainable means of challenging poverty, TILLYandWILLIAM was a hit for the taste and social campaigning aspect.
While functionality was important for the head designer, she described the environmentally friendly process of making the clothes as being just as crucial.
"At TILLYandWILLIAM, we're doing our part by using the softest, most luxurious fabrics we've ever touched, that are also kind to the planet like Modal, polyester made from recycled water bottles, and Cupro, which is made from a byproduct of cotton," Lapidos said. "We do our digital printing in Brooklyn and our clothes are manufactured in New York's Garment Center."
Between the solid silhouettes and construction, the overall performance aspect of the runway show and the green foundation of the line, TILLYandWILLIAM truly holds its own in the world of fashion and social activism.
A version of this article appeared in the Monday, April 28 print edition. David Bologna is a staff writer. Email him at [email protected]