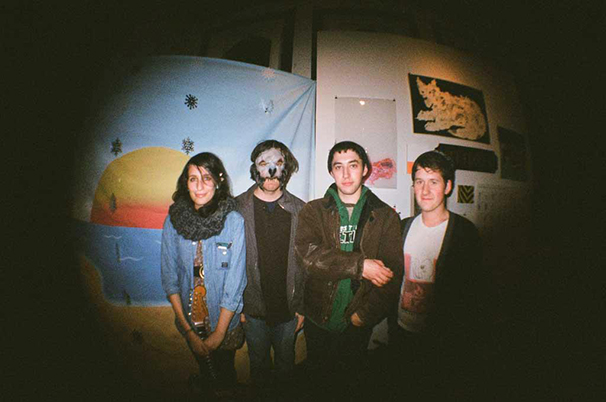 With its deep lyrics and '90s alternative rock aesthetic, Speedy Ortiz's "Major Arcana" made its way onto several lists of the year's best music in 2013.
Nearly a year later, the Massachusetts noise-rockers' new EP "Real Hair" marks a shift in the band's direction. This release could signal an even greater future for Speedy Ortiz.
Listening to "Real Hair," the sound is noticeably heavier than "Arcadia." While the latter drew comparisons to bands like Pavement, the disjointed rhythms, crunchy guitars, heavy bass and arrhythmic vocals of the new album are more reminiscent of '90s post-hardcore bands like Shudder to Think and Slint, as well as fellow Massachusetts grunge rockers Dinosaur Jr.
Throughout the 13-minute album, guitarist and singer Sadie Dupuis glides from one angular riff to another, placing heavy and tasteful solos at appropriate moments along the way.
However, the EP shines brightest from its lyrics, which are as dense as they are inviting.
On the first track, "American Horror," Dupuis tells the story of someone whose American dream turned into a nightmare, singing "Brought into this web/Full of bees, found you in the glue and began their stinging." Perhaps singing about a corrupt politician, Dupuis later howls "The state house is a tad fixed by you/Kick your dirty feet upon that web/With all those bees/Now your poor leg's sticky, oh what a bad scene."
She then sinks into a dark and brooding solo that is laden with thick distortion, giving a sense of weighty feelings. The rest of the EP uses similar musical ideas, almost to the point of being repetitive, as it returns to the same woeful lyrical territory.
"Oxygal" tells the story of how Dupuis "fell for a bone bag," from whom she must distance herself without looking back, lest "I second guess my work and stick my head out/It'll blow off in one shot."
In "Shine Theory," Dupuis examines the guilt she feels at being unable to return the love shown to her, singing in the chorus "I want to want him so bad/But I don't recognize the charms that he has/'Cause my heart looks in on itself."
These beautifully ambiguous lyrics, holding any number of alternative interpretations, are what make Speedy Ortiz so great.
Dense, introspective lyrics mixed with the heavy, intricate music make for a solid EP. "Real Hair" makes an impression that bodes extremely well for Speedy Ortiz's next full-length album.
A version of this article appeared in the Tuesday, Feb. 18 print edition. John Ambrosio is a contributing writer. Email him at [email protected]