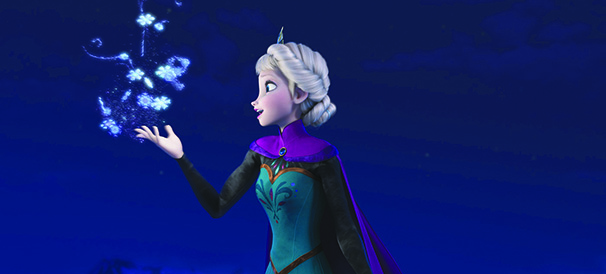 The lights come up on a snowy stage. Icicles hang from the rafters and snow is piled artfully upstage, creating the backdrop for a chilly winter day as a young woman belts out a power ballad celebrating the cold.
These are the images conjured by the news of Disney's next theatrical venture, an adaptation of the animated-hit "Frozen."  The newest Disney movie, which opened in December, is the company's most successful movie since "The Lion King," which premiered 20 years ago.
Disney has made a profitable business of Broadway by adapting half a dozen movies for shows, including "The Lion King," "Beauty and the Beast" and "The Little Mermaid." It only makes sense that "Frozen," peopled with Broadway actors and a score from Broadway composer Bobby Lopez, of "Avenue Q" fame, and his wife, is the next addition.
Following the company's Jan. 13 announcement, fans of the movie immediately began suggesting potential stars for the stage. Broadway veteran Idina Menzel, who voiced Elsa in the film, could make the cut, though she does not seem to be a popular pick among fans. A 42-year-old Menzel indeed might not be the best choice to play a woman who is barely out of her teens. Instead, fans are suggesting younger actresses such as Krysta Rodriguez ("First Date").
Kristen Bell, who voices Elsa's sister Anna in the movie, is similarly not a fan favorite for the Broadway version. Unlike Menzel and the movie's two leading men, Jonathan Groff and Santino Fontana, Bell does not have the theater credits.
Yet Disney's other adaptations have proven that Hollywood names are not necessary in a live musical. The shows are popular enough to draw audiences without a movie star's name on the marquee. As a result, Broadway favorites such as Laura Osnes are being suggested for Anna over Kristen Bell.
Regardless of the casting, "Frozen" would undoubtedly be spectacular on stage. The snowy animation of the movie was unlike anything Disney has produced before, and watching it come to life would be thrilling. Additionally, several songs were cut from the final version of "Frozen." Disney movies rarely have enough music to fill an entire Broadway score, requiring new music for the stage adaptations. Fortunately, "Frozen" already has additional music written.
Most importantly, when "Mary Poppins" closed last year, Disney lost its last Broadway leading lady. Its three current musicals, "The Lion King," "Newsies" and "Aladdin," are all fronted by male characters. The princesses in "Frozen" would be welcome additions, giving young Broadway audiences two strong female characters to look up to. Elsa and Anna are brave, determined and fiercely independent young women — who better to take the New York City stage?
A version of this article appeared in the Wednesday, Jan. 29 print edition. Dylan Jarrett is books/theater editor. Email her at [email protected]