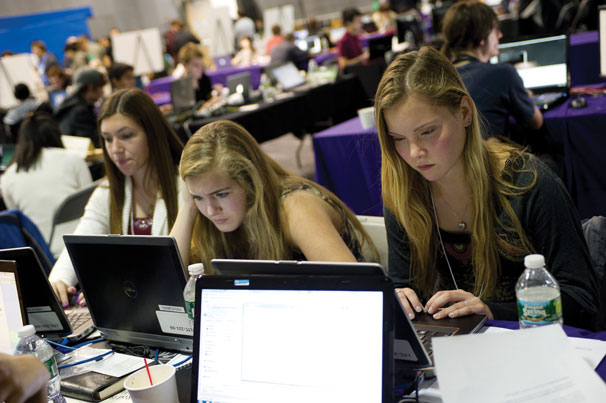 courtesy of NYU Tandon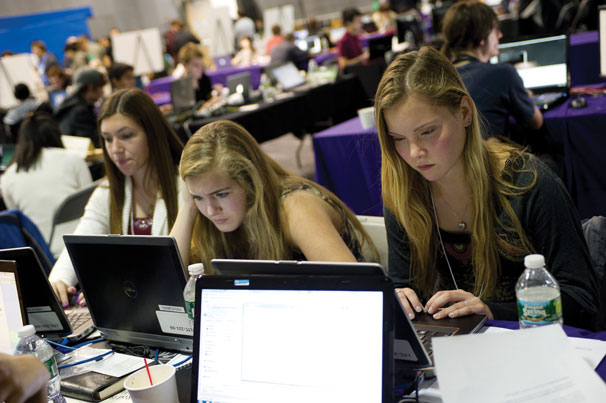 The Polytechnic Institute of NYU became a tech hub this weekend as it hosted the finals for five of its Cyber Security Awareness Week's competitions. Winners were decided for the final games including Capture-the-Flag, High School Forensics, Embedded Systems, Homeland Security Quiz and Awareness events. The competition extended from Nov. 14 to 16.
"Not only is CSAW the world's biggest student cyber security event, but equally important, it is run by NYU-Poly's cybersecurity students," CTF veteran judge and NYU-Poly alumnus Julian Cohen said.
Awards for winners in each game ranged from cash prizes up to $1,000 and scholarships to NYU-Poly up to $14,000.
The CTF event, with its quarterfinals hosted in September, pitted 15 teams together in the final game. Most of the teams included two to four undergraduates from different universities.
"The finalists were provided 19 challenges which ranged in difficulty," NYU-Poly junior and CTF event organizer Kevin Chung said. "Some challenges called for exploitation [of] a challenge website into gaining higher privileges. Others asked for exploitation of poorly implemented cryptography, and others asked for exploitation of a computer's running services."
The first-place winner, with 5,100 points, was a single-member team from Carnegie Mellon University — George Hotz, under the username "tomcr00se."
"The competition gets more difficult every year, so George performed an expert display of security skill and rigor," Cohen said.
Hotz is known in the hacker community as the first person to unlock an iPhone.
The second and third place winners in the CTF competition were "PPP1" from Carnegie Mellon — with 4,800 points — and "CISSP Groupies" from École de technologie supérieure in Montreal.
"Another CTF surprise was how well the high school team from Santa Barbara did — they placed 13th, ahead of two college teams, with 2200 points," Cohen said. "That is excellent for a high school team, we're very proud of them. It was the first time we invited a high school team to participate in the CTF finals — it was a competition reserved for undergrads, but they scored so highly in the preliminary round that we waived the rule for the first time."
The CTF organizers — Marc Budofsky, Julian Cohen and Kevin Chung — won the U.S. Department of Homeland Security Quiz, while the NYUAD team won first place in the Embedded Systems Security contest.
Cohen said that the High School Forensics competition's victors were a surprise.
"This year, two new teams — from California and Illinois — cracked the top three," Cohen said. "Their coaches came to NYU-Poly for our CSAW summer training sessions funded by the National Science Foundation."
NYU-Poly's student body is a cornerstone in CSAW. Each event had its own NYU student organizer.
"NYU-Poly's student team leaders start the academic year by finding the most important research of the year and asking its authors to be judges and help design the student contests for CSAW," Cohen said. "It's a real team effort, and teaches leadership and management skills that students will need later in their careers."
Chung said that the CTF event might expand the number of challenges it presents for next year's competition.
"The event was a great success, and many teams came to me afterwards to let me know that it was a lot of fun and hoped they would come again next year," Chung said.
Patrick Anker is a staff writer. Email him at [email protected]