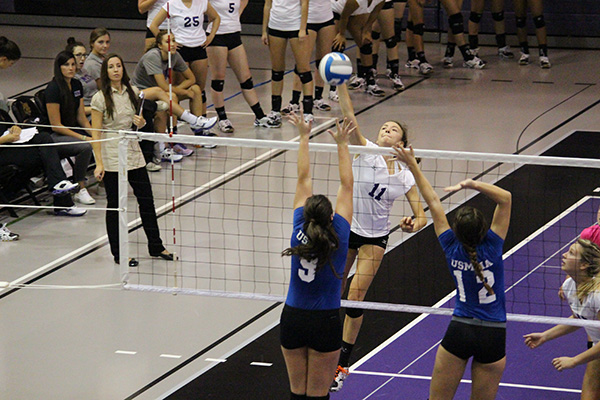 The NYU women's volleyball team received a bid for the National Collegiate Athletic Association Division III Women's Volleyball Championship on Monday, Nov. 11.
The Violets, who finished the regular season with an overall record of 27 wins and 7 losses and a University Athletic Association record of four wins and three losses, did not automatically qualify for the NCAA Tournament. They were selected by the NCAA D-III Women's Volleyball Committee to compete in the 64-team tournament.
NYU was one of five UAA teams selected by the committee. The others are the UAA Champion University of Chicago, Emory University, Carnegie Mellon and Washington University in St. Louis.
"This NCAA bid is an awesome opportunity for us to have a clean start and redeem what we lost this past weekend," Gallatin junior and co-captain Allie Williams said. "I am so excited to see how we progress."
This is the first time the women's volleyball team has made the tournament in four years. In 2010, the Violets reached the Elite Eight, where they lost to UAA rival Washington in three straight sets.
"We have focused our whole season on returning to the tournament," head coach Jolie Ward said. "I believe the team will not squander this opportunity and will compete with everything they can give."
"Having started my first season making it to the Elite Eight, I've wanted to get to the tournament again before I graduated," CAS senior and co-captain Alexandria Mao said.
NYU will face Nazareth College in the regionals on Friday, Nov. 17. Nazareth had a season record of 29 wins and 8 losses, including a loss to the Violets in five sets.
"In this Friday's match, we will look to dominate the match and play a well-executed game for the win," Ward said.
If the Violets advance, they will play Clarkson University or Westfield State University match on Saturday, Nov. 16. The regional championship match is set for Sunday, Nov. 17.
The Violets are ranked fourth in the New York region behind Clarkson University, Richard Stockton College and State University of New York at New Paltz.
A version of this article appeared in the Tuesday, Nov. 12 print edition. Mary Jane Dumankaya is a contributing writer. Email her at [email protected]