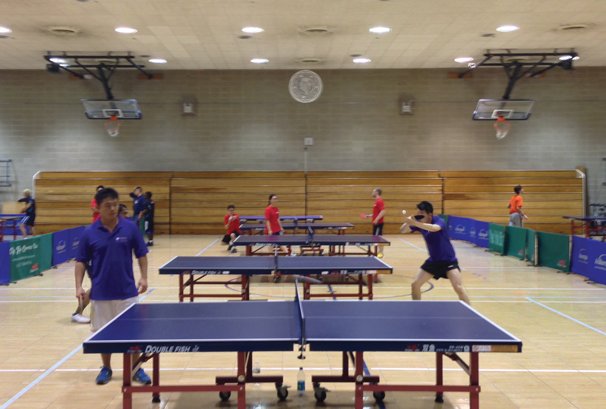 NYU's coed table tennis team successfully defended its New York City Division Title on Sunday, Nov. 10, at the Fashion Institute of Technology.
The team participated in the first half of the National Collegiate Table Tennis Association divisional round. NYU competed against its rival team from Columbia University. Meanwhile, the Fashion Institute of Technology, Baruch College, Yeshiva University, City College of New York, Polytechnic Institute of New York University, State University of New York Stony Brook and Hofstra University also competed.
NYU swept all three of its first opponents — Yeshiva, NYU-Poly and Hofstra. It was a convincing start for a team seeking the same results as last year — the A-team won the Northeastern title and the women's team earned third place at the national competition.
NYU didn't drop a set until round four against Stony Brook. Although the team lost the first set against this opponent, the Violets went on to convincingly win 3-1.
Janice Ho, the public relations chair and member of the women's team, said the Violets wanted to "do well competitively, have fun as a team," and of course, "win the title."
"[There are] high expectations for the A-team because a lot of new members have come in," Ho said. "They are extremely strong, and they're looking forward to a good show at nationals."
Of the 13 members of the A-team, five are freshman. This large contingency of newcomers not only demonstrates the level of talent NYU has now, but also the strength of the team moving forward.
While many schools fielded teams of about 5 to 10 players, NYU brought over 25 players to the competition. This number of players has proved to be a strength for NYU, as it provides flexibility and intimidation.
"Our size is a great advantage," Ho said. "We're one big family."
The biggest competition NYU faced was Columbia. But the Violets were victorious, winning 3-1. Each match was close, and no team was able to test NYU like Columbia.
"We're careful and cautious when we play against them so we don't make any mistakes," Ho said. "We bring our A-game against them."
The victory over Columbia ensured NYU won this divisional round with a perfect record.
Head coach Hiroka Ooka said freshman Tom Li played well even though Li lost once — a tight match against Columbia where he lost 11-9 in the final set, making him lose the game 3-2.
"He's a freshman but he plays like a senior," Hiroka said. "He is extremely calm, mature and very confident."
"The team has a great chance to perform," Ooka said.
The team's next divisional round will take place in February. Until then, the Table Tennis teams will continue to practice at King Pong in SoHo.
Ferenc Puskas is a contributing writer. Email him at [email protected]