Porn star, pastor debate industry ethics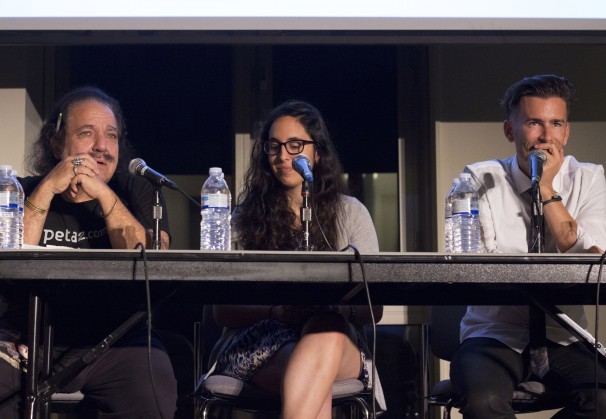 Craig Gross, pastor of the XXX Church, met with adult film star Ron Jeremy in the Great Hall in the Global Student Center for Academic Life to debate the ethics of pornography on Oct. 1. Gross took his usual stance against porn, while Jeremy defended his work in the industry.
Price of Life NYC, a Christian anti-human trafficking organization, presented the event, which proved to be a source of confusion for some.
"It was kind of a silly premise and, from the first place, a jump, which was indicative of a lot of jumps made," Tisch sophomore Sawyer Eason said.
Trevor Agatsuma, a chaplain affiliate for the on-campus religious outreach group InterVarsity Christian Fellowship and one of the organizers for the event, explained the connection between pornography and human trafficking.
"Pornography can affect our mentality of treating others as a commodity, as a product to be consumed," Agatsuma said.
Jeremy expressed a measure of exasperation over comparisons drawn between porn and trafficking.
"I represent the adult industry, [I have] nothing to do with that other stuff," Jeremy said during the debate. "Unlike in human trafficking, in porn, there's a lot of people on that set … They wouldn't let someone get abused on set."
Gross presented a nuanced view, recognizing the legitimacy of the porn industry but questioning the implications of paying women to perform sexual intercourse.
"They don't have the education that you have," Gross said to the audience, referring to adult film actresses. "There's a lot of sets that we've heard of from women saying, 'Hey, I signed up just to do a girl-girl scene, and now there's a guy, and then they offered me a few more bucks, so I went ahead and did it.'"
This sentiment of poor decision-making raised controversy later in the evening, leading to some raised voices in an otherwise even-tempered debate.
During the question-and-answer segment, Steinhardt sophomore Isabella Carr questioned the debate's premise
"This entire debate … is based on the fact that women are being exploited and that we have no conscious ability to decide … Every person I've slept with, I've made that decision," Carr said.
Agatsuma was pleased with the amount of crowd participation.
"That was really interesting that it came out," Agatsuma said.
"This is an emotional issue that goes beyond just intellects," he said.
A version of this article appeared in the Wednesday, Oct. 2 print edition. Casey Dalrymple is copy chief. Email him at [email protected]
*An earlier version of this article incorrectly identified pastor Craig Gross as Craig Ross. WSN regrets this error.