NYUAD's first graduating class begins final year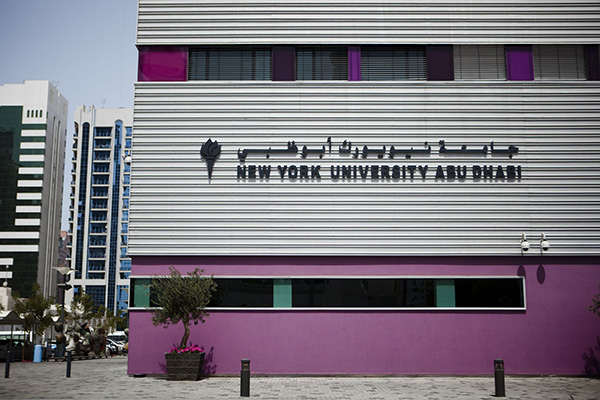 Rising seniors at NYU Abu Dhabi this year are making history as the school's first graduating class.
As the first comprehensive liberal arts and science campus in the Middle East to be operated abroad by a major American research university, NYUAD welcomed its class of students in August 2010, when it joined the Washington Square campus as a degree-granting campus of NYU.
Students and professors at NYUAD said they are proud of what they have accomplished thus far.
"I taught in different institution[s] in different countries for over 17 years, but never have [I had] such … satisfaction by teaching such a group of talented and enthusiastic students," said Arabic language professor Khulood Kittaneh.
Kittaneh said building the university from the bottom up was challenging, as there was no blueprint to follow, but NYUAD achieved success through collaboration and the exchanging of ideas.
Juan Felipe Beltran, a senior from Colombia, said he decided to attend NYUAD when he experienced its intimate selection process. Candidates are invited to participate in a weekend on campus where they take sample classes and converse with faculty members and other prospective students.
"During my Candidate Weekend I was blown away by the quality of the faculty, the fantastic student-to-faculty ratio, and the passion and drive I saw in my prospective classmates," Beltran said.
NYUAD represents 40 countries around the world. Greg Bruno, director of Public Affairs and Community Relations at NYUAD, said the class of 2014 is a living embodiment of NYU's evolution into a truly global university and played a critical role in helping to develop the campus community.
Bruno also said that among the program's many successes was a victory in the 2012 Hult Global Case Challenge. The NYUAD team, represented by Madhav Vaidyanathan, Songyishu Yang, Muhammad Awais Islam, Gary Chien and Neil Parmar, won the top prize for its solution in providing solar lighting to one million homes in Africa by 2013.
"The fact that they were able to do so while also excelling academically is a testament to their hard work, dedication and enthusiasm," Bruno said.
Vaidyanathan said this contest brought his team closer.
"We truly learned what it means to work as a team, to listen to the other and build on that," Vaidyanathan said. "Being open-minded and patient are two qualities that were really tested during this period."
Also of note are the accomplishments of senior Alexander Wang, who was named a Truman Fellow in April. The award is presented to individuals who show leadership and an interest in a public service career.
Arts professor Catherine Coray said the graduating class also set a high bar in the drama department with their work ethic, curiosity and creativity. She added these talented students auditioned for and were accepted into study abroad programs at three of the Tisch School of the Arts' acting studios in New York, and several of them were also accepted into competitive actor-training programs in Amsterdam, London and Florence.
Seniors are also busy working on their year-long research endeavors known as Capstone Projects, which are the culmination of their NYUAD education.
"When they return to Abu Dhabi this fall, they will have studied on three continents and gathered the kind of experience that will make it possible for them to create new work of their own," Coray said. "I can't wait to see what they come up with."
Rafael Scharan, an NYUAD senior from Brazil, said the experience of settling far away from home and helping to establish a new university from scratch was a once-in-a-lifetime opportunity.
"Being part of the first graduating class of NYUAD is an honor," Scharan said. "Looking back at all we've been through and accomplished together fills me with immense joy."
A version of this article appeared in the Sunday, Aug. 25 print edition. Su Sie Park is a staff writer. Email her at [email protected]