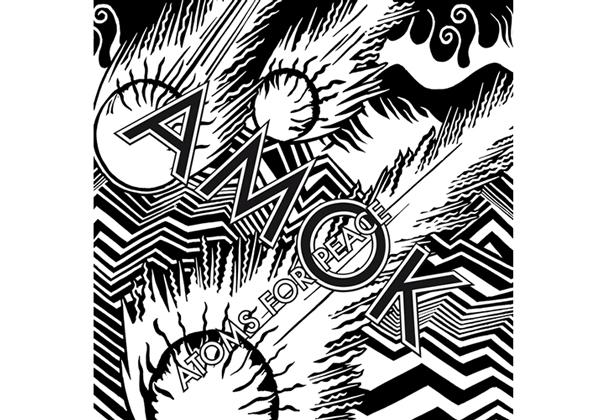 It has been said that Radiohead frontman Thom Yorke can do no wrong, which makes it unsurprising that his side project Atoms for Peace's new album, "AMOK," is transcendent. The project has been labeled a supergroup, and with good reason — Atoms for Peace consists of bassist Flea (Red Hot Chili Peppers), producer Nigel Godrich (Radiohead), drummer Joey Waronker (R.E.M.) and Brazilian percussionist Mauro Refosco. The band has done its best to remain somewhat mysterious — they played Coachella 2010 under the moniker "??????" — but finally ardent followers have something tangible to hold and love.
That something happens to be insanely good. "AMOK" takes the sounds from Yorke's solo effort "The Eraser" and recent Radiohead releases like "Supercollider" and "The Butcher" to a more frenzied level, unabashedly drawing from each member's myriad of influences. The mesh of full-bodied synthesizers, busy drums, funk-inspired bass riffs and Yorke's meandering vocals form something unlike anything in music today.
Yet the album is still incredibly listenable thanks to each track's danceability. "Default" begins with a synth melody that wouldn't be out of place on a Kanye West track, and "Dropped" holds a throbbing pop beat throughout, with energetic synths and Flea's rock bassline backing Yorke's vocals. A grooving bassline introduces "Judge, Jury, Executioner," and "Ingenue" moves with funk beat that chugs along with a multitude of melodies and sounds.
Herein lies the album's genius — the supergroup manages to take classic pop songwriting basics to an entirely new level, experimenting with percussion, synthesized melodies and odd time signatures. These are all elements of Yorke's previous musical ventures, but with Atoms for Peace, the presence of prominent musicians allows for masterful experimentation.
The band has been able to lend each track meticulous attention to detail, not only layering instrumentation, but also tweaking and adjusting several sounds to fit together perfectly. Every second of "Ingenue" seems precisely placed and monitored, with synthetic sounds traveling from high to low to otherworldly.
In "Dropped," we hear produced beats mix and blend with Waronker's live drumming, and bumbling synths subtly blend into Flea's funk rock bassline, backing precisely placed shakers and güiros. Yorke's ethereal vocal melodies and an overall chaotic feel balance out the beats and synths. This all lends the track, and the entire album, an expertly crafted dynamic.
A version of this article appeared in the Tuesday, Feb. 26 print edition. Patrick Jaojoco is a staff writer. Email him at [email protected]