With bright neons and fun textures, the latest ready-to-wear collection from Milly by Michelle Smith will be vying for a spot in many closets come spring.
Sporty melded with the future to create spot-on hits for spring. Neutral bases like black, white, and gray were punched up with eye-catching pops of neon coral, mint and citron. While technical nylons and jerseys in scuba-fit silhouettes and power stretch elastic made up most of the collection, Smith added plenty of twists to keep things from getting stale.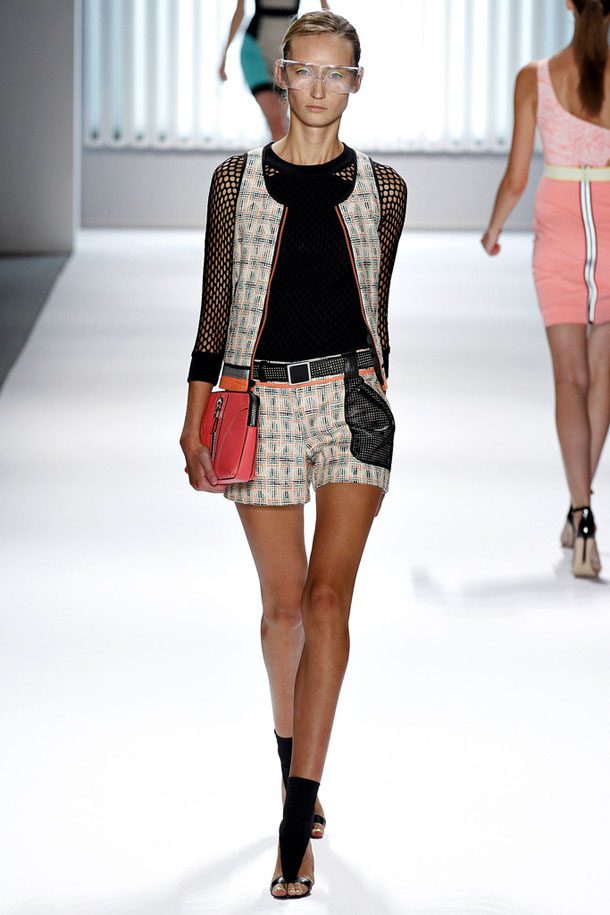 Textures were used in unexpected combinations: a Chanel-worthy navy and citron tweed in zipper hoodie form, mesh tops paired with mille-feuille chiffon. Details like mesh paneling, zippered backs and hemlines, and reflective tape accents added modern spark to clean lines and simple looks.
Citing surrealism as an influence, Smith created fresh and fun looks by toying with illusions like photorealistic prints and pearlized organza.
Sure to be a hit with science geek fashionistas, accessories like bright nappa leather and neoprene iPad clutches and chem lab goggles dotted the collection. Sleek high ponies and highlighter colored eye-shadows gave the athletic look an editorial touch.
Though not innovative or game changing, Milly's Spring 2013 collection impressed, nonetheless. Appropriate for the young and modern trendsetter, the latest showing proves that Milly is a go-to line for wearable and chic daily looks.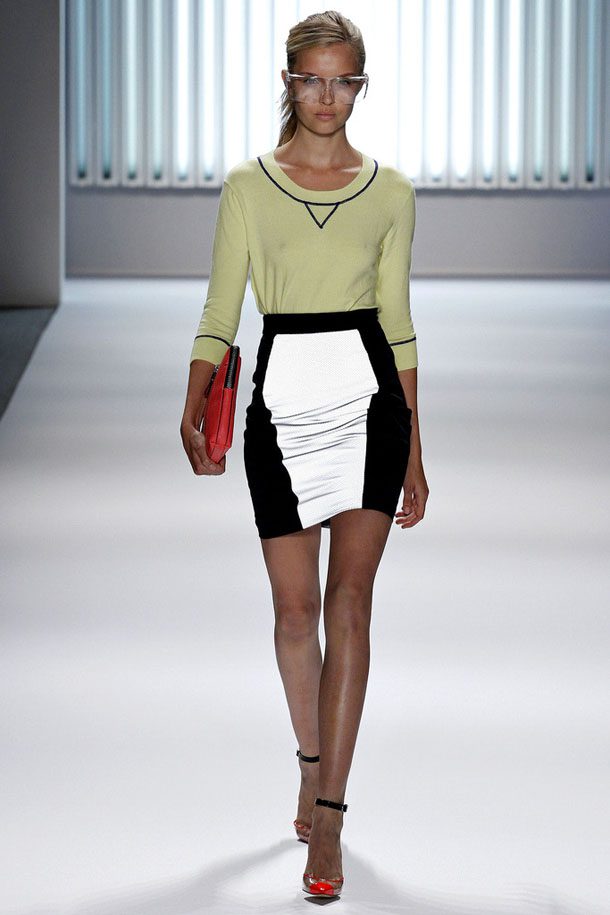 Spotted in the front row: Olympic medalists Ryan Lochte and Conor Dwyer, Ramona Singer from The Real Housewives of New York, Fox News Channel correspondent Ainsley Earheardt
Carrie Courogen is a senior editor. Email her at [email protected]