Alumni hall
Posted on March 6, 2013 | by Gaby Cohen
Click above to see more pictures of Alumni Hall.
The biggest factor that draws people to Alumni residence hall is that it is comprised of all single rooms. Because residents are guaranteed individual space, Alumni is a safe alternative to playing the housing lottery. Although bedroom and common room sizes vary, even the smallest rooms are equipped with relatively new appliances and provide a clean living environment. There are even individual bathrooms in each suite. In addition to single bedrooms, Alumni features individual study rooms on almost every floor of the building.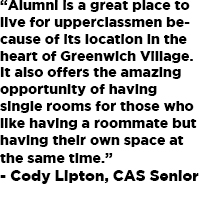 The location of the residence hall, which is just one block away from St. Marks Place, makes Alumni the closest upperclassman residence hall to Washington Square. With easy access to St. Marks Place, great restaurants and late-night spots abound. There is also a 24-hour grocery store down the block from the residence hall.
However, Alumni is plagued with a lack of community involvement, as many of its residents don't care for community-building programs or group events. For those who are interested, programs include free trips to the Metropolitan Museum of Art, spaghetti dinners and free study snacks during midterms and finals. But besides the lack of spirit, Alumni's location, facilities and single bedrooms make the residence hall a solid option for next year's housing selection process.
– Gaby Cohen